Supporting Our Community Through COVID-19

Amidst global concerns around coronavirus (COVID-19), we want to share some of the steps we're taking to help the TikTok community stay safe and informed. As a global platform, we're focused on providing our community access to accurate information, in partnership with trusted local health officials, while supporting relief efforts to help those who have been deeply impacted by the crisis.
Supporting communities in need
We are all operating in uncertain times, and it's more important now than ever for our online, local, and global communities to come together to help those in need. TikTok is taking action by committing over $250M to support communities that have been affected during this challenging period.
Among the efforts TikTok will be supporting with cash contributions are:
TikTok Health Heroes Relief Fund: Health care workers are the heroes of this global battle, and deserving heroes within the TikTok community. We are passionate about our small role in supporting their efforts through the provision of $150M in funds toward medical staffing, supplies, and hardship relief for health care workers. This includes $15M for the CDC Foundation to support surge staffing for state and local health departments and $10M to Gavi, the Vaccine Alliance, to aid the development of coronavirus vaccines and immunization programs in Africa.
TikTok Community Relief Fund: To provide critical relief to communities impacted by the health and economic damage caused by this crisis, TikTok will allot $40M in cash to local organizations that serve groups representative of TikTok's diverse user communities, including musicians, artists, nurses, educators, and families that have come together on the platform. For example, we've donated to MusiCares to provide assistance to music professionals whose livelihoods have been severely impacted, the National Restaurant Association to aid service workers as their industry faces uncertainty, the National PTA to help fund distance learning and school meal benefits. And since we're all in this together, we'll be further matching $10M in donations from our community to support those who need it most.
TikTok Creative Learning Fund: TikTok will be providing $50M in grants to educators, professional experts, and nonprofits whose real-world skills and expertise can help spread educational information and useful course material in an accessible, distance learning format.
Helping SMBs restart and rebuild: TikTok is committed to helping SMBs weather this crisis, and we will be providing $100M in ad credits to help companies get back on their feet once economies are able to restart normal activity.
This is has been a global commitment, and we continue to seek out ways to aid those in need.
Resources for our community
We're also committed to helping users within the app by providing educational resources and valuable information from credible sources. This includes an informational page that offers facts from the World Health Organization, answers common questions, gives tips on staying safe, and busts common myths surrounding COVID-19.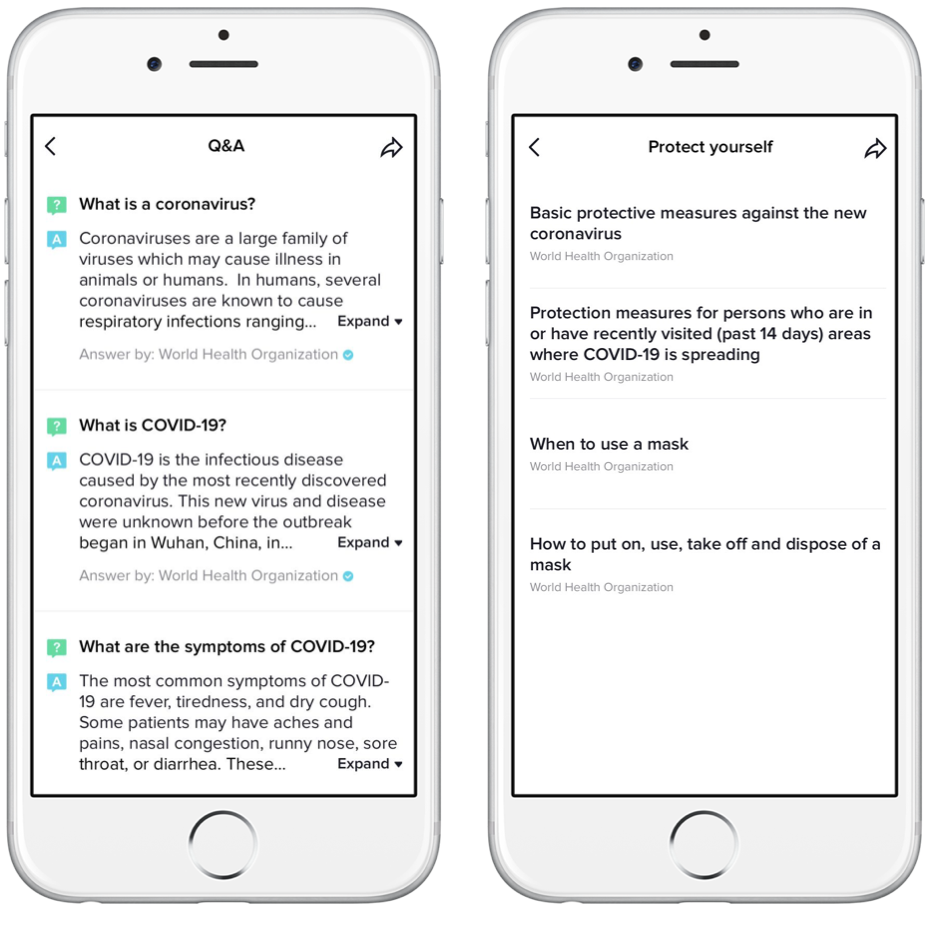 While this resource isn't the reason users come to TikTok, we want to make sure it's readily available among the creative content they're enjoying. The informational page can be accessed from the Discover tab and when users search for coronavirus-related topics, where they'll also find videos from verified accounts that provide trusted information from reliable sources. We're also surfacing a link to this informational page on videos that may relate to coronavirus.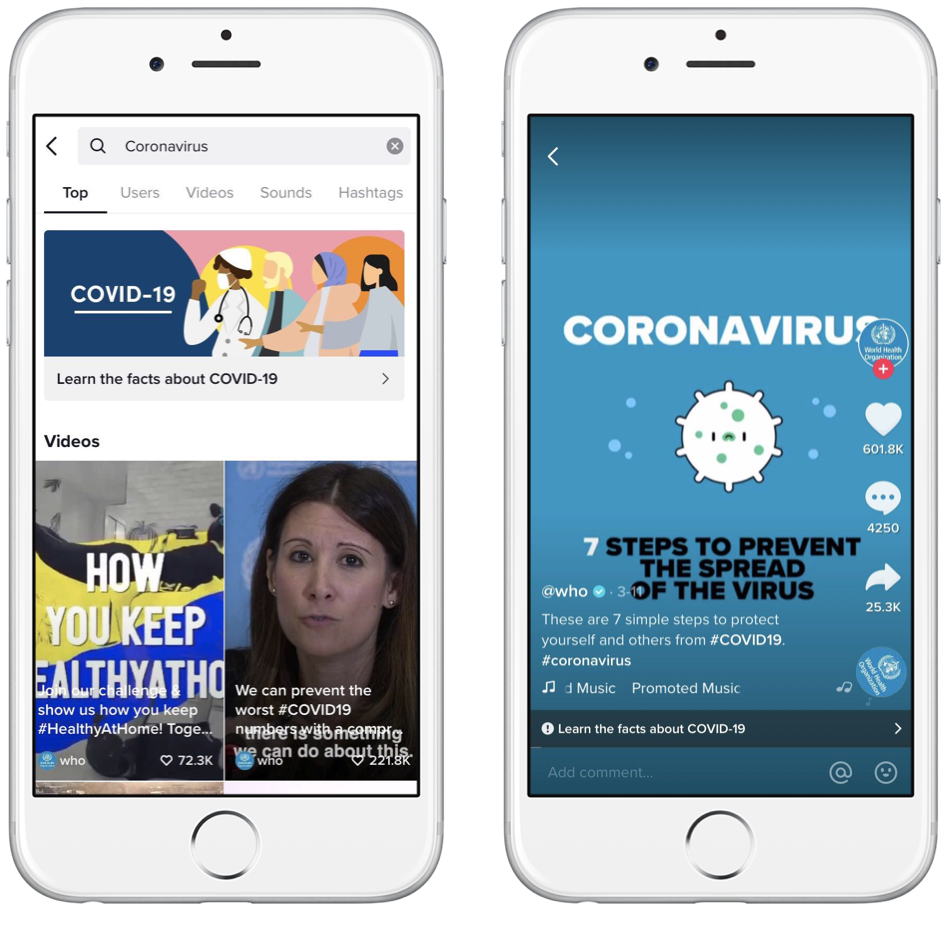 We've also hosted educational livestreams from representatives of the WHO, IFRC, and popular voices for public health and science, like Bill Nye the Science Guy.
These are all steps to help ensure our community is receiving the information they need to stay safe and help prevent the spread of coronavirus.
Promoting healthy conversation
Preventing the spread of coronavirus requires not only enabling access to accurate information but also taking steps to limit the potential for false or misleading information to spread on TikTok. To that end, we are taking a measured approach to minimizing the opportunity for disinformation to gain traction on the platform.
As we connect users to authoritative sources of health information, we also offer features and tools that allows users to evaluate the content that they are engaging with on the platform. For TikTok users who choose to explore hashtags related to coronavirus, we surface an in-app notice that provides easy links to local health resources and reminds users to report content that violates our Community Guidelines.
To be clear, our guidelines prohibit misinformation intended to deceive or mislead the public. While we encourage our users to have respectful conversations about the subjects that matter to them, we remove misinformation that could cause harm to an individual's health or wider public safety.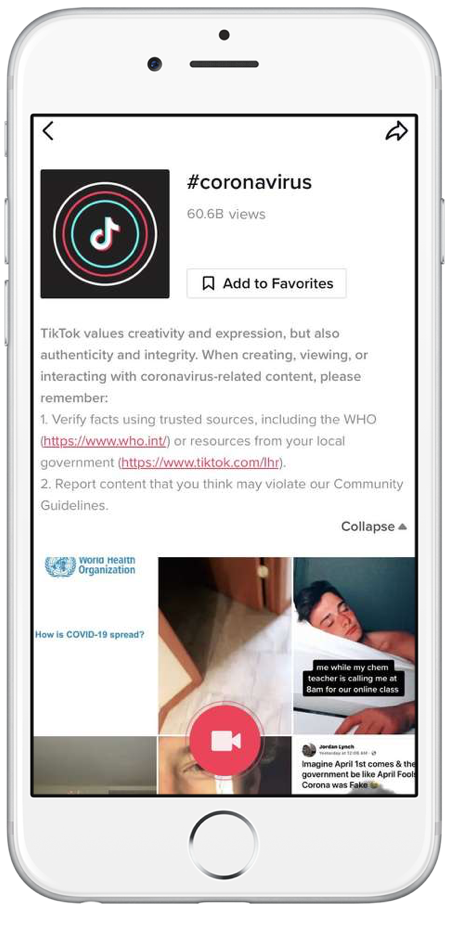 In light of the pandemic, we are erring on the side of caution when reviewing reports related to misinformation that could cause harm to our community or to the larger public. This may lead to the removal of some borderline content.
As always, we are focused on minimizing opportunities for harm and misuse. We continue to invest in measures we can take to support platform integrity. To further aid our efforts to reduce the spread of misinformation, we are working with third-party fact-checking organizations, including the Poynter Institute and its MediaWise program, Science Feedback, Lead Stories, and Vishvas News to help ensure that TikTok remains a space where authentic content can thrive.
Partnering for greater impact
We're at our strongest when we work together, which is why we've partnered with a number of local and global organizations who are using TikTok to share trusted information with users.
A sampling of other trusted organizations that are using their accounts to provide tips to promote safe and healthy behavior include:
World Health Organization ➡️ Find them @who
International Federation of Red Cross and Red Crescent Societies: Find them @ifrc
Ministry of Public Health, Thailand: Find them @thaimoph
... and many more. Local health authorities interested in sharing trusted information can contact us here.
To further aid organizations and agencies inform the public quickly and efficiently, we are providing $25M in prominent in-feed ad space for NGOs, trusted health sources, and local authorities, enabling them to share important messages with millions of people and meaningfully engage the TikTok community.
Protecting our global team
As a global company, we prioritize the safety of our employees and the world around us. With this in mind, we've introduced a work from home policy for our global teams and suspended cross-border business trips. We continue to evaluate the current environment, and in conjunction with guidance from trusted health authorities, we will adjust our measures as needed.
Coming together as a global community
During these difficult times, we want to support our users around the world in ways that are positive and beneficial. For example, we've launched #HappyAtHome, a series of fun and educational live programs with a goal of sharing in a bit of levity, providing users some comfort, and embracing the responsibility we all have to do the right thing by staying inside and stopping the spread of coronavirus. Additionally, Procter & Gamble partnered with TikTok and public health officials to launch the #DistanceDance challenge, which encourages people to stay at home and practice physical distancing to help slow the spread of coronavirus and encourage their friends to do the same – in a fun and creative way. Further, we've partnered with WHO to promote a global #SafeHands challenge to encourage hygienic habits without adding to alarm. Since the WHO kicked off the challenge, we've been overwhelmed by the dedication our community has demonstrated to preventing the spread of the virus by sharing the songs and sounds they use to encourage thorough hand-washing.
Just as we're joining health experts provide advice on how to navigate this period, we're also inspired to see the TikTok community continue to use their creativity to motivate one another. As organic trends like #ghencovychallenge – a catchy song and dance developed by TikTok Vietnam – helps make the concept of washing your hands fun, hashtags like #quarantine allow users to share their experiences working or schooling from home.
TikTok has a mission to inspire creativity and bring joy – and the need for joy and positivity has rarely felt more pressing than during this time. This is a difficult period for the world as a whole, but it's also possible for our shared sense of concern to be a commonality that brings us closer. We appreciate that our users are being kind to themselves and to each other. We see this as an opportunity to come together as a community, understand how we are all still connected, and recognize the importance of helping to support, encourage, and even uplift one another – and we're inspired to see that our global users feel the same.