COVID-19

Supporting our community through COVID-19
Amidst global concerns around the coronavirus (COVID-19) pandemic, we want to share some of the steps we're taking to help the TikTok community stay safe and informed. TikTok is committed to providing our community with access to public health information and resources. At the same time, we want to do our part to support families, frontline workers, and others deeply impacted by the pandemic.
Supporting communities in need
We're all operating in uncertain times, and it's more important now than ever to come together to help those in need.
TikTok Health Heroes Relief Fund: Health care workers are the heroes of this global battle, and we're passionate about supporting their efforts through the provision of $150 million in funds toward medical staffing, supplies, and hardship relief. This includes $15 million to the CDC Foundation to support surge staffing at high-need hospitals across the US and $10 million to the World Health Organisation's (WHO) COVID-19 Solidarity Response Fund which provides essential supplies to frontline health care workers and support treatment and vaccine research. We've also donated $10 million to 10 academic institutions that serve underrepresented students with programs focused on public health and professions in the medical and healthcare fields.
TikTok Community Relief Fund: To provide critical relief to communities impacted by the health and economic damage caused by this crisis, we've allotted $40 million to local organisations that serve groups representative of TikTok's diverse communities, including musicians, artists, nurses, educators, and families that have come together on the platform. Some of the many organisations we've donated to include MusiCares to provide assistance to music professionals whose livelihoods have been severely impacted; Gavi, the Vaccine Alliance, to support immunisation programs in Africa; the National Restaurant Association Educational Foundational to aid service workers as their industry faces uncertainty; the National Parent Teacher Association (PTA) to help fund distance learning, meals, and mental health support to over 150 PTAs across the US; and After-School All-Stars (ASAS) to help provide food for families impacted by the loss of access to free or reduced-cost school meals in 60 US cities.
TikTok Creative Learning Fund: TikTok has committed $50 million in grants to educators, professional experts, and nonprofits whose real-world skills and expertise can help spread educational information and useful course material in an accessible, distance learning format.
Helping SMBs restart and rebuild: To help SMBs weather this crisis, we're providing $100 million in ad credits to help companies get back on their feet.
Partnering for greater impact
We're at our strongest when we work together, which is why we've partnered with a number of local and global organisations who are using TikTok to share trusted information with the community. Beyond enabling people to view COVID information from their local public health organisations, the WHO is serving as a valuable resource to our community by using their TikTok account to create videos highlighting key tips and facts: Find them@who
Local health authorities interested in sharing trusted information can contact us here.
Through our partnership with Team Halo, scientists from all over the world continue to post video updates on TikTok to show the world the progress being made on the vaccine. This team of public health experts answer all kinds of questions from our community, from what steps go into developing a vaccine to how they test them for safety – helping people stay in the know. Additionally, TikTok is donating prominent in-feed ad space to trusted organisations and local health authorities to help our community stay safe, informed, and connected. To date, TikTok has donated nearly $5 million in ad credits to trusted organisations and local health authorities in the US.
Resources for our community
TikTok works with public health experts to make authoritative information about COVID-19 and vaccines available directly in our app. We provide banners on videos and reminders on searches related to COVID-19 and the COVID-19 vaccines. People can tap on these resources to view the website of their local public health organisations that provide more information about COVID-19 and the COVID-19 vaccines.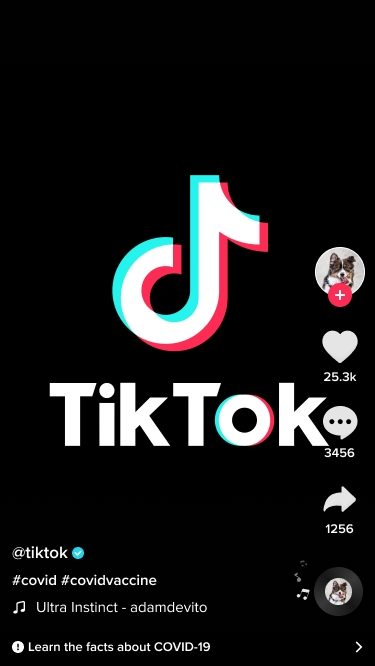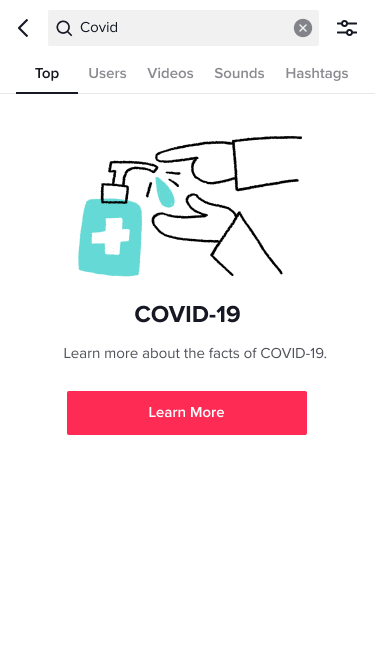 While this resource isn't the reason people come to TikTok, we want to make sure it's readily available among the creative content they're enjoying. We believe that one of the best ways to counter misinformation is through engaging, informative content, and we continue to partner with public health experts to create content that resonates with our community.
TikTok has a mission to inspire creativity and bring joy – and the need for joy and positivity has rarely felt more needed than during this time. This is a difficult time for the world as a whole, but it's also possible for our shared sense of concern to be a commonality that brings us closer. We appreciate that those in our community are being kind to themselves and to each other.
Combatting medical misinformation
TikTok's Community Guidelines prohibit content that's false or misleading, including misinformation related to COVID-19, vaccines, and anti-vaccine disinformation more broadly. We also do not allow paid advertising that advocates against vaccinations, though PSAs or calls to action related to COVID-19 vaccines are accepted on a case-by-case basis if they're in the interest of public health and safety. TikTok works with experts across the industry, civil society, public health, our Content Advisory Council to develop our policies and enforcement strategies and stay ahead of evolving content. TikTok takes a proactive, holistic approach to countering misinformation.
We provide access to authoritative information about COVID-19 and vaccines across our app.
We have specially trained teams working to identify and remove false or misleading content as well as accounts that spread misinformation. Our community members can also report misinformation to us from our app.
Our fact-checking partners help us assess the accuracy of content and include Politifact, Lead Stories, Science Feedback, and the AFP. If fact-checking is inconclusive, we will limit the distribution of content into anyone's For You feed to reduce the potential for misinformation to spread.
We work with industry-leading threat detection platforms to identify networks and suspicious activity.
We take multiple approaches to make anti-vaccine and COVID-19 misinformation harder to find. In addition to removing content, we redirect searches associated with vaccine or COVID-19 disinformation to our Community Guidelines and do not autocomplete anti-vaccine hashtags in search.
For people on TikTok who choose to explore hashtags related to coronavirus, we surface an in-app notice that provides direct access to WHO's website or local public health agencies while also reminding them to report content that violates our Community Guidelines.
Protecting our global team
As a global company, we prioritise the safety of our employees and the world around us. With this in mind, we've introduced a work from home policy for our global teams and suspended cross-border business trips. We continue to evaluate the current environment, and in conjunction with guidance from trusted health authorities, we will adjust our measures as needed.