Navigating TikTok

Now that you understand what TikTok is and what makes it a wonderful place for creators, let's look at the basics of how to use and navigate the app.
Creating an account
If you want to be a part of the TikTok community, the first thing you'll need to do is create an account. You can sign up using your email, phone number, or a third-party platform. You'll automatically be assigned a username upon sign up, but it's easy to change and choose your own later. After that, you have the option to add a profile image and description. Now, you're all set!
While creators under 16 years old start with private accounts, all other TikTok profiles are public by default, meaning anyone can see it and view your posted videos. You can adjust your privacy settings by tapping the three dots in the top right corner of your profile. You may not want to share your private information. Consider visiting your privacy settings to manage your private information.
Navigating TikTok
Now let's head to the For You feed. The For You feed delivers videos to each user that are likely to fit their interests. If you want to personalize your For You experience, just keep watching TikToks. That's right. The more you use TikTok, the more the For You feed will customize to your specific tastes and interests. Your For You feed is unique to you.
If you swipe left, you'll be taken to the Following feed that features videos from creators you follow. Easy, right?
On each TikTok video, you'll also see a variety of icons. The first icon with the creator's profile picture and "plus" sign located at the top of your feed will take you to that creator's profile. You can "follow" and find more information about that creator there.
The second icon is a heart. Tapping on the heart will "like" the creator's video. The third icon, a comment bubble, will take you to the comment section of that video. The next icon, an arrow, lets you share TikTok videos as well as post to your favorite social platforms.
Finally, the spinning icon represents the song or sound the creator is playing in their video. It takes you to the Sound Detail page. There you can learn about the sound being used and see other videos that feature it. You can also favorite a sound to save it for later.
What if there is certain type of TikTok you don't want to see in your feed? If you long press on the video, a "not interested" icon will be revealed.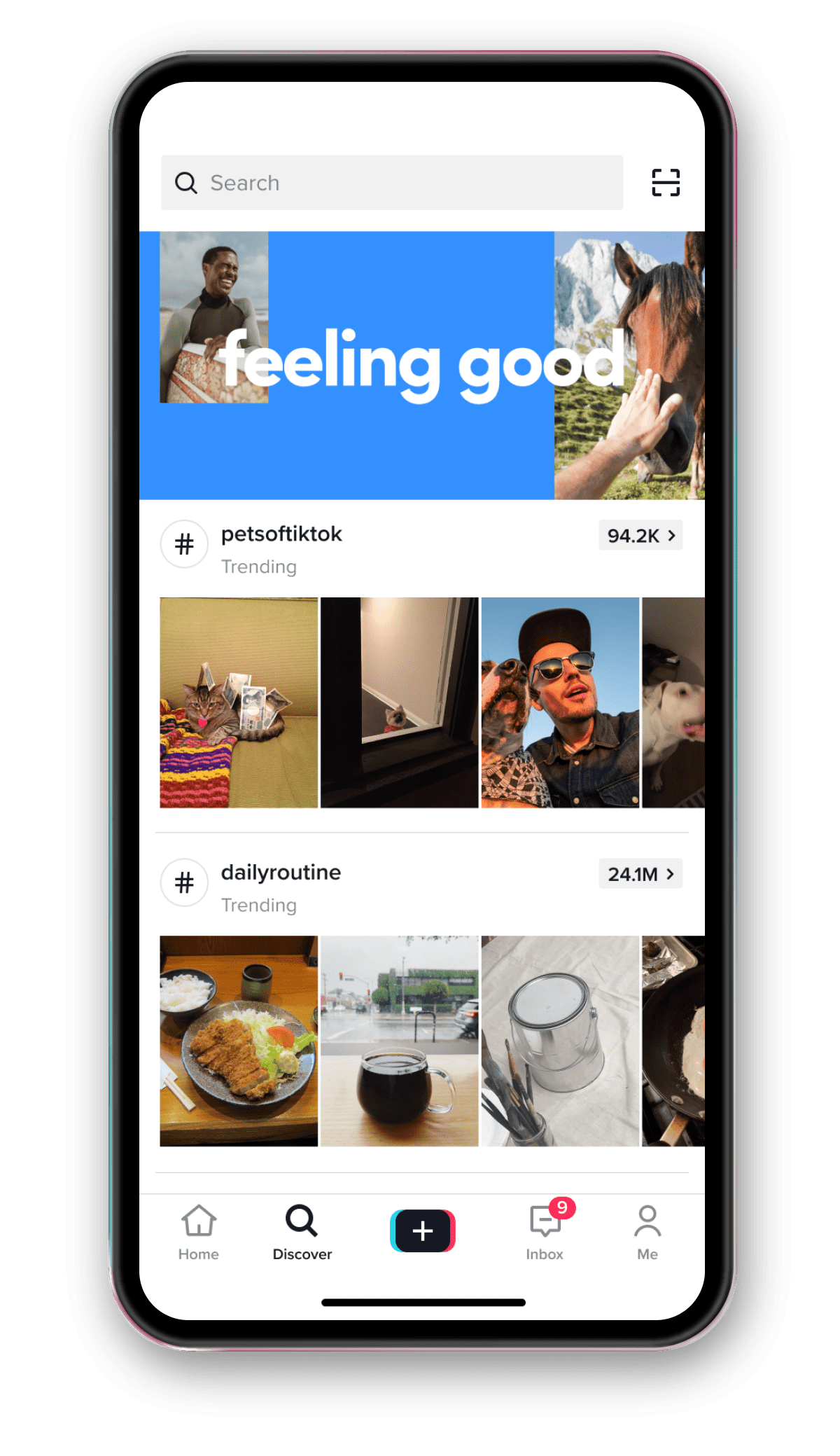 Creating a video
When you press the plus icon at the bottom of your screen, you'll be taken to a video creation screen. From here you can try out different creative effects, shoot your video, or even choose a sound and see all the tracks trending on TikTok. Feel free to create TikToks. The more you create, the more familiar you'll get.
Tag us to share what you learned from the #creatorportal.