Going LIVE

Going LIVE
TikTok LIVE is the place to be for real-time fun, expression, and creativity. On LIVE, you can find unexpected connections and endless possibilities to create. It's the place to be for all Creators, because it's the place to be you.
Just like with regular short-form TikTok videos, you have access to filters, effects, and camera control. But unlike the former, there are no limits on your recording time when you go LIVE, but if we detect that a host is inactive for a long period of time in their LIVE room and failure to complete our verification, we will close the LIVE room.
Now we know you are making top-notch content, but sometimes, LIVEs don't always have consistent views or engagement. But don't worry — fluctuations are normal, and you need to go LIVE regularly to build a loyal audience. Be sure to check your local laws for any licensing requirements when going LIVE.
Who can go LIVE?
If you want to go LIVE on TikTok, you have to be 18 years old or older.
What are the benefits of going LIVE?
Earn $$$ through LIVE Gifts and Diamonds
We know you love creating on LIVE. But did you also know — your content can bring in money, too — whether it's for you or for a good cause.
Virtual LIVE Gifts from your fans mean you can collect Diamonds, which can turn into real money into an external account of your choice. What are Diamonds? TikTok awards them to Creators based on the popularity of your videos, and one way for Creators to collect Diamonds is to receive Gifts from views on your LIVEs.
LIVE Gifts is for users aged 18 years and older only. Remember to follow our Community Guidelines and don't solicit gifts or offer incentives for gifting.
Here's how to make sure you can access the full benefits of LIVE Gifting:
1. First, tap "Settings."
2. Next, you'll click the LIVE Gifts toggle.
3. After that, go to your profile.
4. Click your "Settings" again, and go to "Balance."
5. From there, you can withdraw your rewards to your bank or PayPal account. You must accrue 2,000 Diamonds ($10) before asking TikTok to pay your rewards.
Get Discovered
TikTok has recently launched (and will continue to roll out) a set of LIVE features which can help you get discovered by new viewers.
Weekly Rankings
Weekly Rankings can be found in the LIVE section of the app and show a weekly ranking of creators based on the number of Diamonds collected. The more Diamonds, the higher the ranking! The Weekly Top 20 hosts will be awarded with prizes. And if you want more LIVE, the top four to 10 hosts will be viewable on the "Explore More" page and be awarded with a label on their LIVE video thumbnails of their previous week's ranking.
Who can participate? Everyone who's 18+ and eligible to go LIVE! As long as Community Guidelines are followed. Hosts that violate Community Guidelines will be removed from this ranking feature.
Can hosts choose not to participate in the rankings? Yes, of course. To opt out of the Weekly Rankings, follow these instructions:
1. First click "LIVE Screen."
2. Then go to your "Settings."
3. Next, click "Rankings."
4. If you want to opt out during your LIVE, "Tap More," then "Admin Settings," then "Rankings."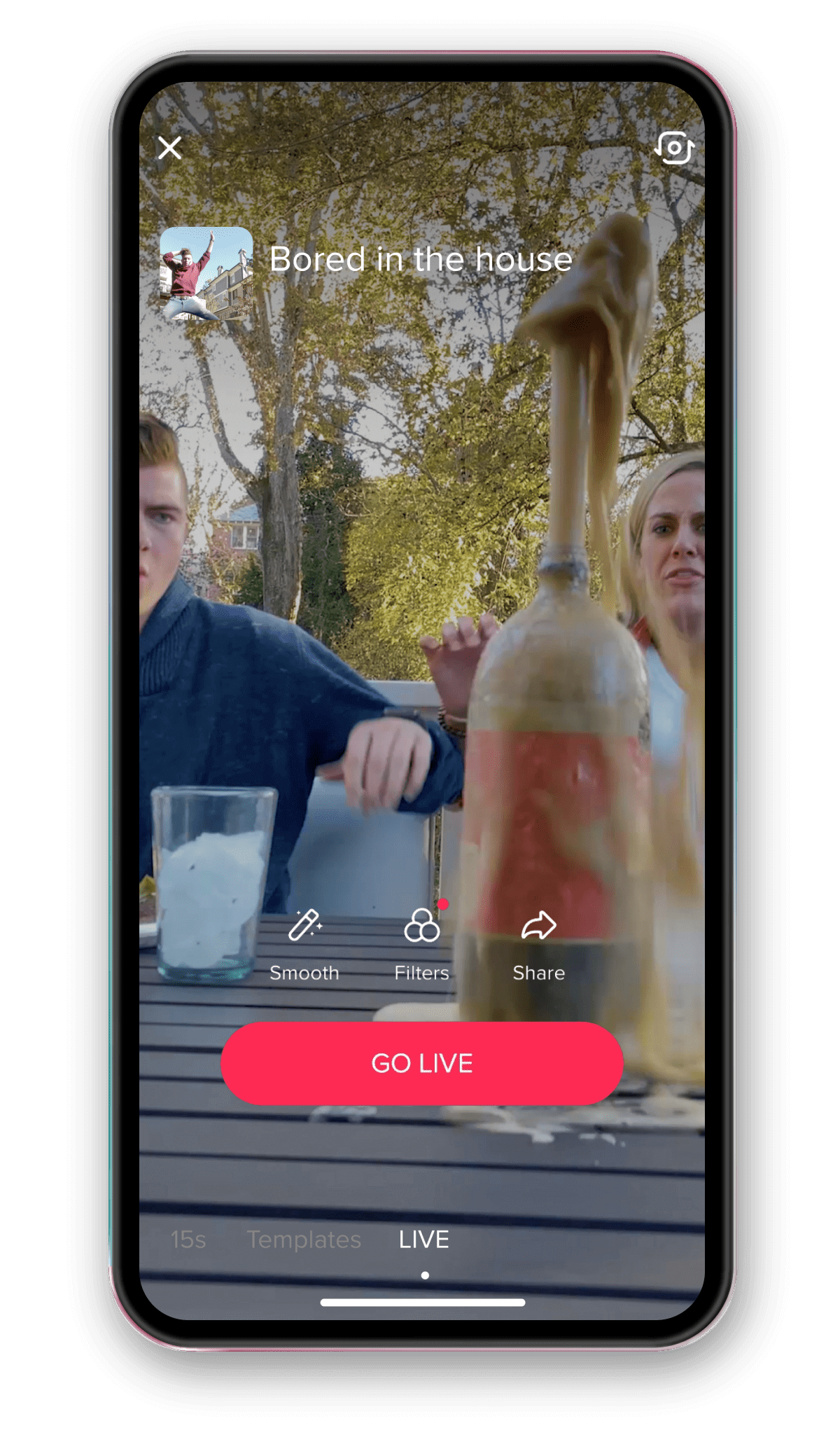 LIVE Campaigns
LIVE campaigns are events hosted by TikTok LIVE offering rewards to LIVE Creators. It is a great way to engage your new and/or existing viewers — building connection and fostering community.
Learn about our current LIVE campaigns from the banners of the TikTok LIVE page. At the campaign page, discover the duration of a campaign, read instructions for how to participate, know how to win rewards, and see our terms & conditions. You can choose to opt out at any time by simply clicking "Opt-Out" at the top of the campaign page.
Build Connections with Loyal Fans
Another added bonus of going LIVE is you build real connections in real time with your viewers and fellow Creators. The more your audience tunes in, the more you learn what they want — and can deliver that content to them. Hello, lifelong fans.
Tips for an awesome LIVE
Before you jump into LIVE for the first time, here are a few best practices to keep in mind:
Time slot
One important factor to keep in mind is when to stream your LIVE video. Primetime hours provide the best time to stream, but you also want to consider your audience. Think about shifting your LIVE stream to coincide with the time of day they are most active.
Length of time
Another thing to think about is the length of time of your LIVE. The duration is really up to you, but 30 minutes is a good best practice to consider.
Stay active
It's a good idea to post a video ahead of your LIVE stream. That way if a viewer sees your posted video during your LIVE, a special icon will appear that lets them enter your stream directly via your For you feed.
Lighting
Lighting is key to keeping viewers engaged. Bad lighting makes it harder for viewers to see what's going on and can be a distraction. Good lighting helps keep viewers' attention on what you want them to focus on. Consider having good lighting in place before you record.
Sounds
Sound can often be overlooked, but it is just as important as your visuals when it comes to creating great LIVE videos. You want your viewers to hear everything you're saying, after all. Background noise can be distracting, so consider finding a quiet place to stream from.
Internet connection
It's a good idea to test your internet connection before going LIVE. LIVE videos require a steady internet connection, so it's helpful to find the most consistent one.
Camera angle
You also want to take a moment and think about your visual presentation. Consider choosing one camera angle. Moving around during your stream can lead to a rough viewing experience, so pick a location for your phone and stick with it.
Plan it out
Preparation is your friend. Think about what you want to do before you go LIVE. There's no need to write a script, but having a plan for what your stream is about can help you stay focused.
Engage your audience
When you do go LIVE, think about engaging with your viewers. Whether you're responding to comments or answering their questions, consider going LIVE as a way to build your relationship with your audience.
How To Get Started?
To go LIVE on TikTok, tap the "create" icon to access the LIVE screen. Swipe to LIVE in the navigation, pick an image, and write a title for your stream.
Once you're ready, press Go LIVE to start your stream. Once you're LIVE, you can tap the three dots to change a variety of settings. You can flip the camera, add effects, filter comments, and even add moderators (up to 20).
More questions about trying LIVE for the first time? Check out LIVE Center in the TikTok App to find LIVE feature updates, analytics, education and more!