Video Gifts

Think you've heard of all the ways to monetize by creating videos on TikTok? Think again.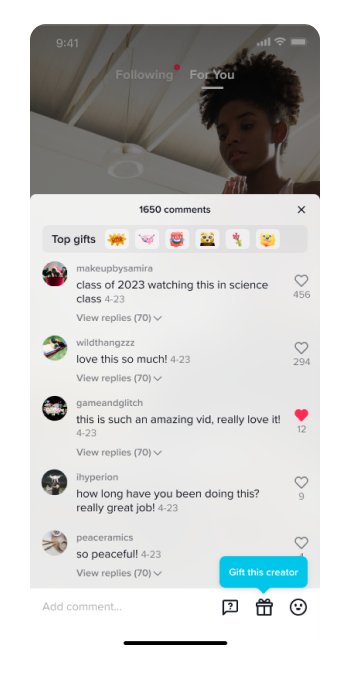 What are Video Gifts?
The Video Gifts feature gives creators another opportunity to collect Diamonds by allowing their viewers to send a virtual gift in the comments section of a video. TikTok awards Diamonds to creators based on the popularity of their videos, and a key metric that TikTok uses to assess the popularity of a video is the number of Gifts sent to a creator's content.
Why use Video Gifts?
Creating content that resonates is a talent, and we want the creators who help make TikTok so special to be able to monetize from it. Additionally, we're mindful of the hard work creators put into connecting with their audience, and the Video Gifts feature allows viewers to be a part of creators' journey toward realizing their full potential on TikTok.
With Video Gifts, creators can be rewarded by TikTok on a video-by-video basis. This can inspire creators to spend more time crafting quality videos and drive viewers to show their appreciation to creators for doing so. Win-win.
How Video Gifts work
To turn on the Video Gifts feature, first you'll need to join Creator Next, the gateway to all of the monetization features on TikTok. Then, you'll go to your Settings and privacy page. From there, select "Creator tools" and then select "Video Gifts." Finally, choose "Turn on Video Gifts."
For markets where Creator Next has not yet rolled out, Video Gifts are located in your Creator tools. To enable Video Gifts go to your settings, select "Creator tools", "Gifts" and toggle on the "Video Gifts" function.
When viewers want to recognize a creator for their creativity and work, they can tap the comments icon on the video they're watching and select the gift icon next to "Add comment." They can then choose the Gift they'd like to send, add a comment, hit send and receive confirmation that the Gift was successfully sent.
It's important to note that not all videos are eligible for Gifts. Only videos that have the Gift icon in the comments section are eligible to receive a Gift from a viewer.
How to view and redeem Diamonds
One way for you to use Diamonds is to request to redeem your Diamonds for money from TikTok. You can see Diamonds' potential monetary value in your TikTok account balance.
If you want to redeem your Diamonds for money, simply choose "Withdraw," select your connected account, enter the amount you'd like to redeem, and tap "Confirm and proceed." It's important to note that Diamonds do not have a monetary value unless and until they're redeemed.
Who's eligible?
The first thing you need to do for your videos to be eligible to receive Gifts is to opt in to Creator Next, the gateway to all of TikTok's monetization features. Creators also must be 18 years of age or older, have at least 100,000 followers, have an account that is over 30 days old, have published a public video in the last 30 days and can't have repeated violations of our Community Guidelines. Business Accounts are ineligible to participate.
Some videos aren't eligible for Gifts, including Duets, Stitch videos, ads, sponsored content, promoted posts, or videos that violate our Community Guidelines.
Viewers who are 18 years of age or older will be able to tip creators for their content.
Tag us to share what you learned from the #creatorportal.