Safety tips

TikTok is a platform for creativity and inclusivity. We strive to make our platform safe and welcoming for everyone. That's why TikTok has a number of safety settings and tools to help empower users take control of their online experience. In this post, we will uncover what those tools are and how to use them.
Filtering comments
We're focused on keeping TikTok a home for safe and creative expression. And we realize that there are some words out there that some people may believe to be harmless, but others feel are deeply hurtful or offensive, and some words are deeply hurtful to mostly everybody. That's where the "filter comments" tool comes in handy. This tool lets you create a list of keywords you wish to block from any comments on your videos.
Once activated, any comments containing a keyword from your list will be removed from your videos and will not be visible to you or anyone else. This applies to both comments that have already been made and any future comments.
To set manual keyword filters, go to Settings and Privacy and tap "Privacy." Then select "Comment filters," and toggle to enable. Then click "Add Keywords." Choose your keywords and tap "done."
Managing Duets
Duets can allow for some pretty wonderful creative collaborations. But it's important that those interactions and collaborations be welcome.
Keep in mind that when someone makes a Duet with your video, they get to decide what to create in response. They essentially own that Duet. That's why you get to decide who can make Duets with you. You may elect to choose one setting for all your videos, or you can make that decision for each individual video.
You're also in control over who can react to your videos. You can choose everyone, friends (people you follow that follow you back), or no one.
To manage your Duet settings, go to your Settings and privacy first. Then tap "Privacy," and scroll down for the option "Who can Duet with your videos." Make your selection.
Controlling your profile
You can control and change the privacy settings on each individual video. Let's say you are receiving unwanted interactions on a video. There are a few things you can do. If you have already turned on and added comment filters, but feel like you'd like to take more action, you can consider turning off comments entirely. You may also elect to adjust your privacy settings for the video from public to private. These features give you additional control on the level of engagement from your community.
To access your video's privacy settings, select the "…" icon at the bottom right. Then choose "Privacy settings." From here, you can control whether or not to allow comments or control who can watch your video.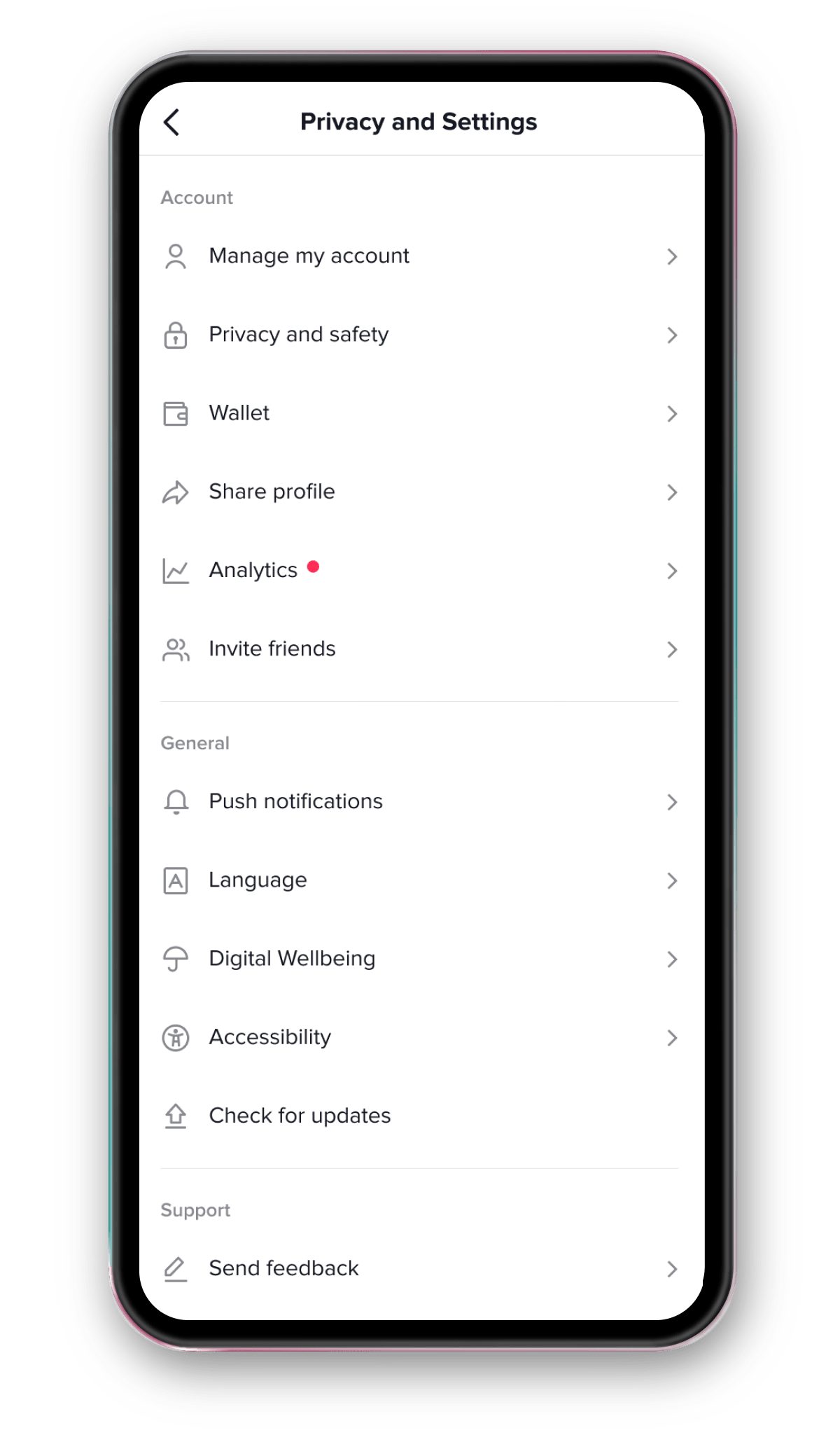 Removing and blocking accounts
Let's say you don't want to let a particular person see or comment on your videos anymore. You have the option to remove a follower at any time or to permanently block another person.
We encourage all users to follow our Community Guidelines and engage with one another respectfully. However, if another user violates our code of conduct by displaying harassing and bullying behavior towards you, you should feel empowered to block that user.
When you block a user, they won't be able to view your videos or interact with you through direct messages, comments, follows, or likes. You can control who is in your community and can block or remove followers at any time for any reason.
To block a user, go to the user's profile. Tap the "…" icon located at the top-right corner. Then select "Block" and follow the steps in the app.
Reporting harassment
We're building a supportive community that celebrates creativity and expression. To that end, we want to promote an environment that doesn't tolerate abuse or harassment. We encourage anyone who witnesses or experiences behavior that violates our guidelines to report it. You can report a video, account, or direct message or comment that you've received. These reports are sent to the Trust & Safety team who reviews them in accordance with TikTok's Community Guidelines.
To report a user, go to the user's profile and tap "…" Select "Report" and follow the instructions provided. Please remember that if you believe your safety is in danger, be sure to contact the proper authorities.
Tag us to share what you learned from the #creatorportal.