The following is part one of a two-part series around Always On TikTok. Discover our second article about how to get creative on TikTok here.
TikTok is a place where creativity and joy thrive. Millions of people use TikTok every day to showcase their talents, express themselves, discover new trends and come together. In turn, more and more brands are joining the ride and embracing TikTok's inclusive and diverse community. But some brands are still unsure about the best way to use TikTok.
While it might feel daunting at first, there are a few basic principles that can help brands achieve success on TikTok. In the following article, we will explore how brands can utilize an "always-on" strategy to create joyful content, build awareness, forge lasting connections and achieve remarkable results through TikTok.
The three pillars of an always-on strategy
The TikTok community loves to explore and discover new content. A balanced combination of organic beats, creator partnerships and paid peaks will keep your brand dynamic and connected.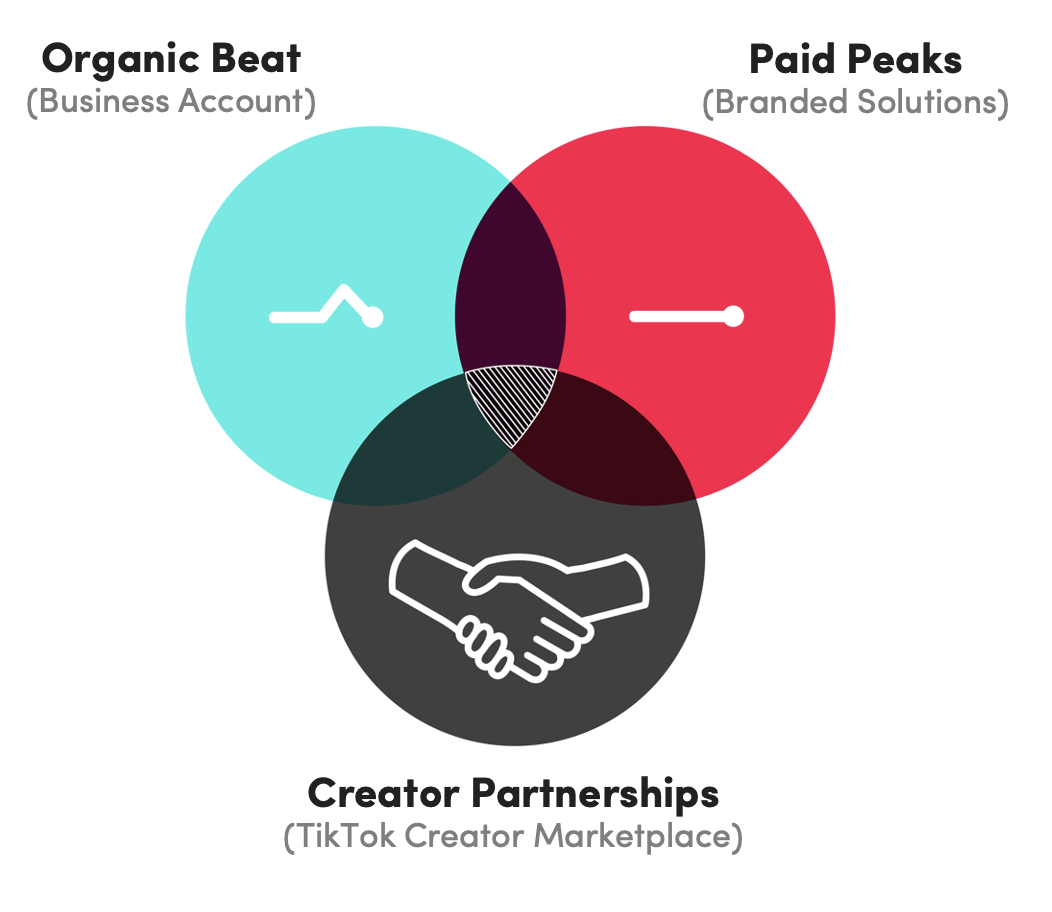 1. Organic Beats: Keep your audience engaged
The first step is starting a TikTok Business Account where you can set up a profile page, build a brand presence with organic content, and access a variety of business features, including real-time metrics on content performance. It's a great way to get discovered, form a brand community and show your creative side while speaking directly to your audience.
Once you've established an account, it's best to maintain "organic beats" - a steady stream of TikToks that keep users primed, engaged and familiar with your brand and offerings. Additionally, monitoring how audiences react and engage with your content is beneficial when it comes to building future campaign strategies. You can also build great connections by consistently interacting with your audience in the comments section.
Case study: congstar
Launched as a small startup in 2007, and now with over five million customers, congstar is an innovative, flexible tariff telecom provider aimed at discount shoppers in Germany. Hoping to build brand awareness and engage more followers on TikTok, they started posting regular organic content . Their videos are simple yet well produced, consisting of funny skits and other light-hearted content about everyday situations involving your phone. After a few months, congstar built their first ever paid campaign based on what they had learned.
The brand's organic success paved the way for a hugely successful Branded Hashtag Challenge and a 26x average increase in organic content video views. congstar's brand profile went from 1,700 followers to 3,200 in just six days, establishing a strong base from which they could communicate and grow organically.
2. Creator partnerships: Instill realness and spark co-creation
Creators are the lifeblood of the TikTok community, reflecting the realness and creativity of the platform. They are great content creation partners, with their unique storytelling ability, authentic voice and intimate knowledge of the hottest TikTok trends. Whether it's generating widespread awareness, boosting engagement, or increasing sales, TikTok creators can help brands drive business results across the marketing funnel.
The benefits of using popular TikTok creators include:
Reach and impact new audiences
As TikTok experts, who already understand how to get noticed and create an impact on the platform, TikTok creators have a knack for grabbing people's attention at scale.
Form positive and inclusive engagement
With their out-of-the-box creativity and ability to shape culture, TikTok creators can deeply engage and form communities of active co-creators.
Drive sales and increase web traffic
TikTok creators can recommend the products and services they enjoy and believe in to their followers while creating frictionless buying experiences with clear CTA and deep links. Consider collaborating with them to introduce your new products and offers in a more genuine way.
TikTok Creator Marketplace
TikTok Creator Marketplace (TCM) is the official platform for brand and creator collaboration on TikTok. It consists of an easy-to-use discovery platform where marketers can find the best, most relevant TikTok creators, a convenient analytics tool providing key insights about all listed creators, and a matchmaking service for marketers to connect directly with the creators they like.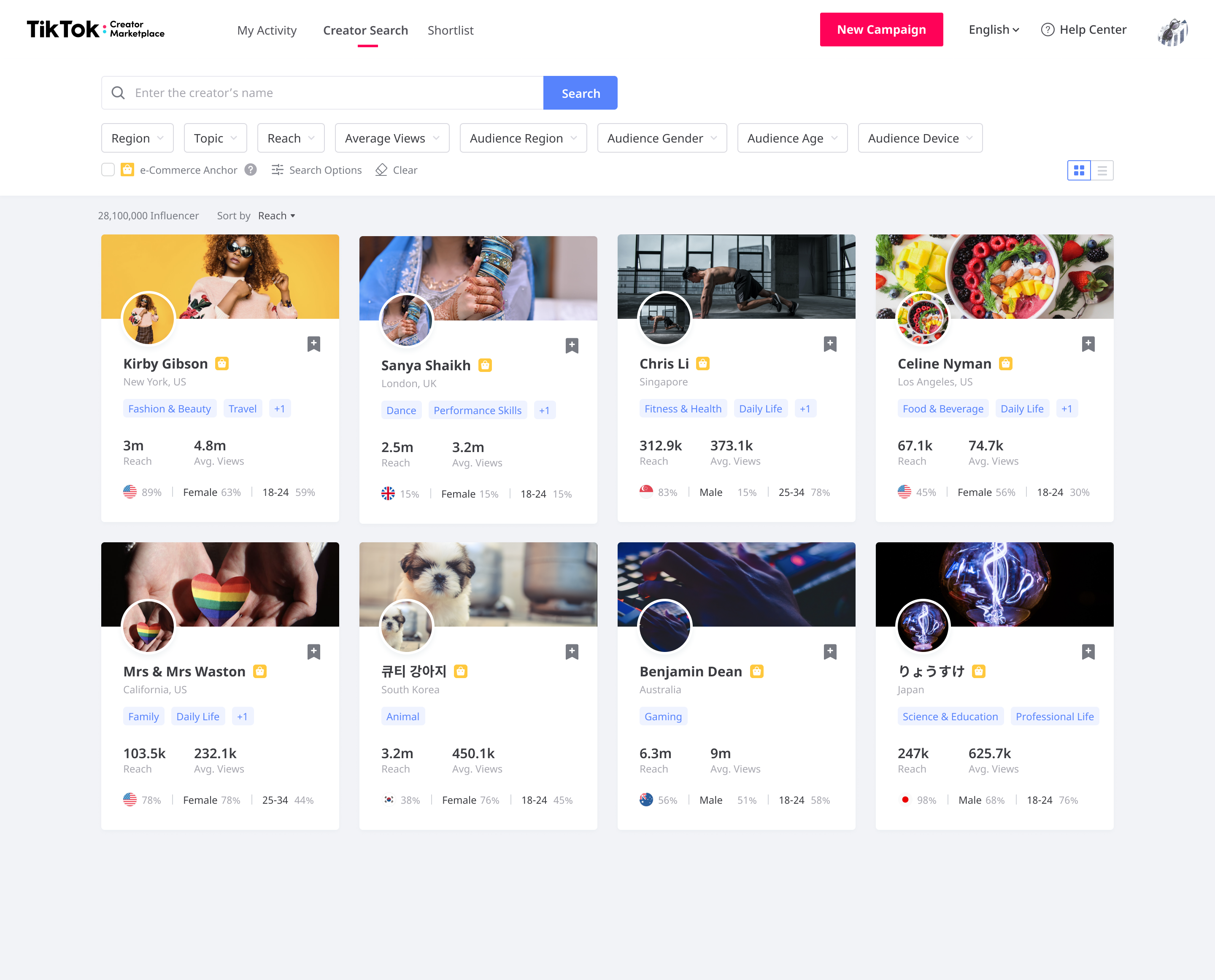 Brands understand the influence that creators have on consumers, especially on TikTok, but they are often unsure about where to begin or how to work with them. Well, that's where TCM comes in. By allowing brands to explore TikTok's creator community, make data-driven marketing decisions, and manage collaborations with creators, TCM takes the guesswork out of partnering with creators on TikTok.
Case study: ASOS
British online fashion retailer ASOS made a huge splash recently with a thumb-stopping Branded Hashtag Challenge called the #AySauceChallenge, launched in collaboration with 28 popular creators from the UK and US, including @abbyrartistry, @estare, @elmo and @lorengray. The #AySauceChallenge, which aimed to build awareness and engagement with a fashion-conscious digital audience, received a major boost from the creators, inspiring users to get involved in the campaign while enhancing the brand's presence on TikTok.
3. Paid Peaks: Small to large-scale campaigns
Once TikTok feels like familiar territory, you can amplify your communications through paid campaigns or "peaks". Whether it's introducing a new product, promoting engagement, or driving lower-funnel metrics, TikTok's branded solutions can help deliver against your marketing goals,
TikTok offers a suite of five seamless and simple branded solutions built natively into the content experience. All offer full-screen, sound-on and immersive video for unlimited creative potential.

Learn more about TikTok's branded solutions here.
Case study: Doritos
Doritos, one of the world's most recognisable snack brands, was looking to spread awareness for its new Truth or Dare game for Google Assistant in the Netherlands. Based on the popular party game of the same name, Dorito's Truth or Dare utilizes voice assistant to ask users a series of questions. To get the word out, Doritos turned to TopView, one of TikTok's premium ad formats, appearing full-screen and sound on upon app opening.
Doritos worked with popular creator @saarbabyy to produce an authentic-feeling ad that showed exactly what the game was all about. In a hilarious clip, the ad takes users through the various truth or dare scenarios of the game – ending in an outrageous dare to eat a spoonful of mayonnaise. A call to action then directs users to the Doritos Netherlands page.
Find what works for you
When it comes to advertising on TikTok, there is no one-size-fits-all approach. Brands still need to customize their strategies based on their own unique marketing goals, budgets and other factors. But whatever the case, a comprehensive always-on strategy, combining organic content, paid peaks and creator partnerships, is a great way for brands to grow and connect with the TikTok community while driving business results.
To start developing your own always-on strategy, click here.