The Objective
Amazon Prime Video Italy, one of the country's leading streaming services, was looking to create buzz around its latest release, Good Omens - a show based on Terry Pratchett's book and its lighthearted take on the birth of Satan's son.
Ahead of the launch of the mini-series, Amazon Prime Video Italy wanted to raise awareness of the show at the same time as reaching a younger Gen Z audience - and they were in luck, because that's what TikTok Italy does best.
Incorporating Good Omen's main theme - the eternal battle of good and evil - Amazon Prime Video and TikTok Italy planned a clever campaign that not only inspired their target audience, but created some incredibly engaging user-generated content that surpassed all expectations.
The Solution
Making use of the show's main theme, Amazon Prime Video Italy launched a Hashtag Challenge on TikTok Italy, #beneVSmale (#goodVSevil), which called on users to show both their angelic and demonic sides in the most creative ways they could imagine.
To best reach their target audiences, Amazon Prime Video Italy worked with a number of popular Italian creators to produce content based on the hashtag. Featuring angel and devil costumes, animated characters, and some very creative dancing, the creators' videos - complete with an upbeat soundtrack - encouraged other users to get involved in their own way. The vast number of responses, and their highly imaginative nature, proves just how popular Hashtag Challenges that are super fun and simple to recreate can be.
Amazon Prime Video Italy then created a Brand Takeover advert, which occupies the full vertical screen and is the first thing a user sees when opening the app. In-Feed Ads also helped drive users to the Hashtag Challenge page. Starting the videos with a view of the creator, before cutting to the brand message and call to action, gave the campaign an authentic, user-generated feel, encouraging wider participation from the TikTok community.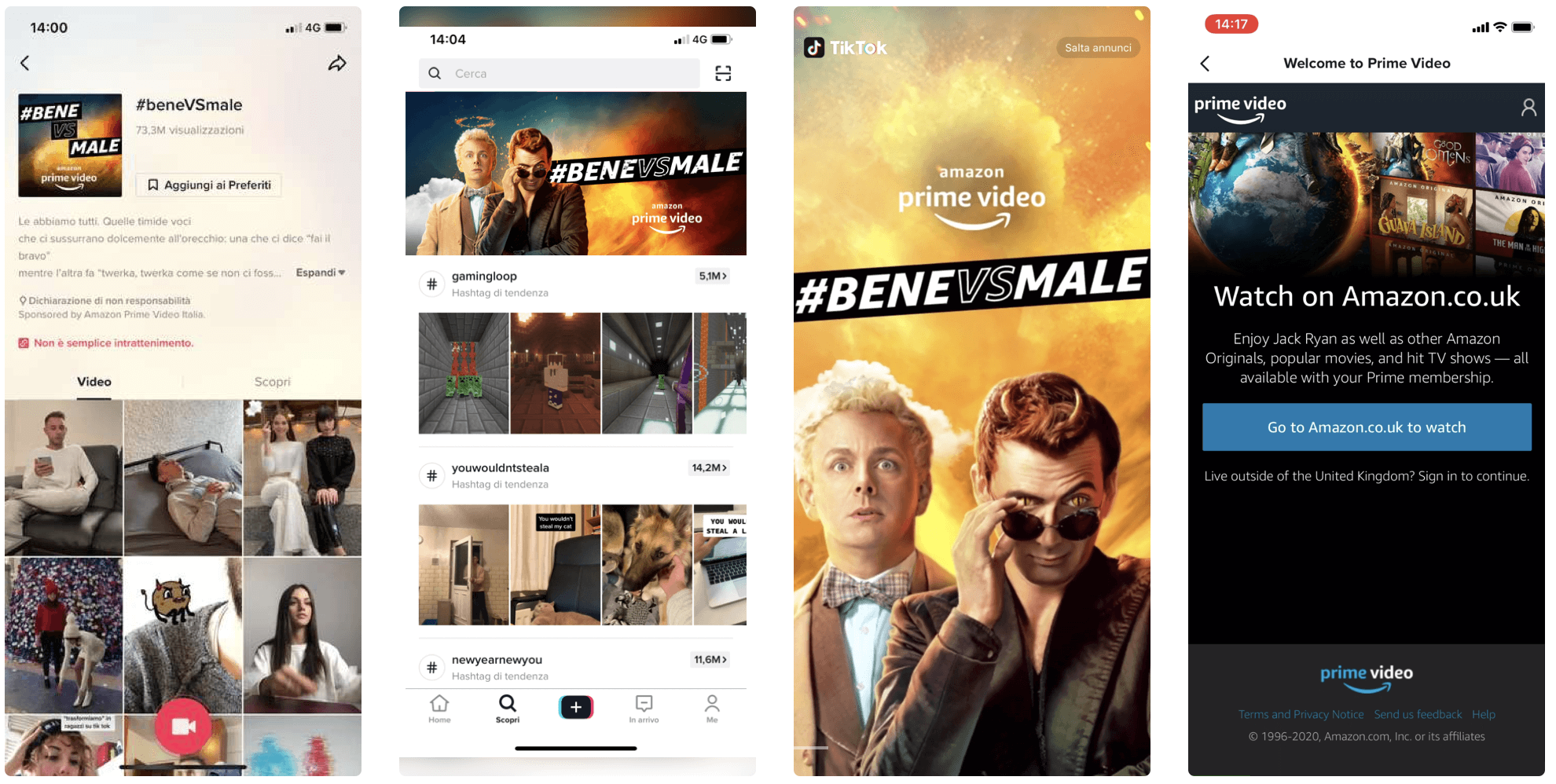 The Results
Running from December 27th, 2019 - January 1st, 2020, the campaign amassed some impressive results in such a short timeframe. More than 68 million views were logged from 51,000 videos, followed by more than 9.4 million interactions - including likes, comments, and shares.
The sponsored Hashtag Challenge banner and page received 36 million impressions, inspiring more than 22,000 TikTok users to take on the challenge, posting their own '#beneVSmale' videos to match the creators' content.
For Amazon Prime Video Italy, the campaign exceeded all expectations - surpassing benchmark figures, and exposing Good Omens and its theme to a huge number of their target audience.