The Objective
Mall of the Emirates (MOE) has it all, from delicious dinning experiences, to extravagant shopping and thrilling entertainment and play areas. In order to encourage more people to go to the mall, MOE decided to run a fun, engaging and light-hearted Branded Hashtag Challenge on TikTok.
MOE sought to achieve big wins with this campaign by positioning itself as the ultimate destination for the Dubai Shopping Festival (DSF), improving the brand's overall awareness and engagement, and activating a seamless omnichannel approach with the right TikTok creators and content.
The Solution
At its core, the #MYMOEDance Hashtag Challenge invited TikTok users to participate and show their love for MOE. Giving them the space to tap into their creative juices, the campaign called on the TikTok community to use the M, O, E, gestures to highlight their favorite spaces around the mall.
MOE produced a catchy branded song for the challenge and partnered with top TikTok creators who joined in and showed the mall from their own perspectives, resulting in a stronger brand link and brand connection.
In terms of omnichannel integration, MOE set up a stand on mall grounds specifically for this challenge - drawing in a seamless integration between the brand's presence on TikTok and a 360 offline experience. The stand was designed to set the stage for mall goers to participate in the challenge. The stand included a tripod for people to film their videos and a digital screen showcasing high quality UGC from people participating in the challenge.
On the last day of the campaign, @mallofemiratesuae and TikTok Live MENA partnered for the first regional in-mall live stream activation specific to Dubai Shopping Festival (DSF). The one-hour live session took users on a tour of THAT concept store - MOE's newest hot spot.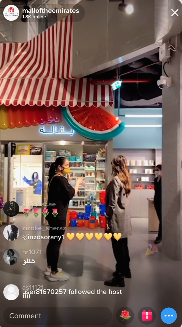 The Results
In less than 24 hours, the results started stacking up, with more than 5.4 million video views generated on day one. By the end of the six-day campaign, the results exceeded multiple benchmarks, including 9.8 million video views and 193,000 engagements.
In a Brand Lift Study, 60% of users said they found the Hashtag Challenge and the overall mall experience enjoyable. The campaign generated an 18% uplift in brand awareness and a clear 21% shift in attitude towards the brand overall. TikTok's UAE based users were ready to pull out their wallets & head to Mall of Emirates for some shopping fun.
The live stream was shown to over 5.4 million users across the GCC, with more than 126,000 unique views. MOE's followers jumped from 13,000 to 19,000 during the live stream on the very last day of the campaign.