The Objective
Launched in 1970, Danette has been one of France's most popular desserts for more than 40 years. By 2002, it had truly established itself as a household name, with more than 50% of French consumers buying Danette products, and was likely known by many more through the catchy slogan: 'We all get up for Danette!'
Following this long run of success, the brand planned a relaunch activation to pay tribute to the original saga in a funny way and reach a younger Gen Z audience. Danette found in TikTok the perfect platform to spark a new movement of joyful moments, all inspired by a clever twist on its famous slogan.
The Solution
Honouring its rich heritage at the same time as creating something new, Danette launched a Hashtag Challenge on TikTok in France, based on its new slogan #ToujoursDebout (#StillStanding), calling on users to prove how they were 'still standing' for Danette.
To best reach its target audiences, Danette worked with seven French influencers (with 6M followers combined) who focus on comedy and self-mockery. Creators' videos ranged from the everyday to the outrageous, including operating a riding lawnmower while standing, standing while napping against a wall, and eating a meal while standing on a table. It could only happen on TikTok.
Danette created Brand Takeover and In-Feed Ads to drive the community to the Hashtag Challenge page. Starting with influencer videos, before cutting to the brand message and call to action, bolstered the campaign with a genuine and authentic feel.
The campaign was also rounded out using Danette's catchy slogan as the soundtrack, adding an extra element of humour while infusing brand messaging in not only the creators' content, but user-generated content, too.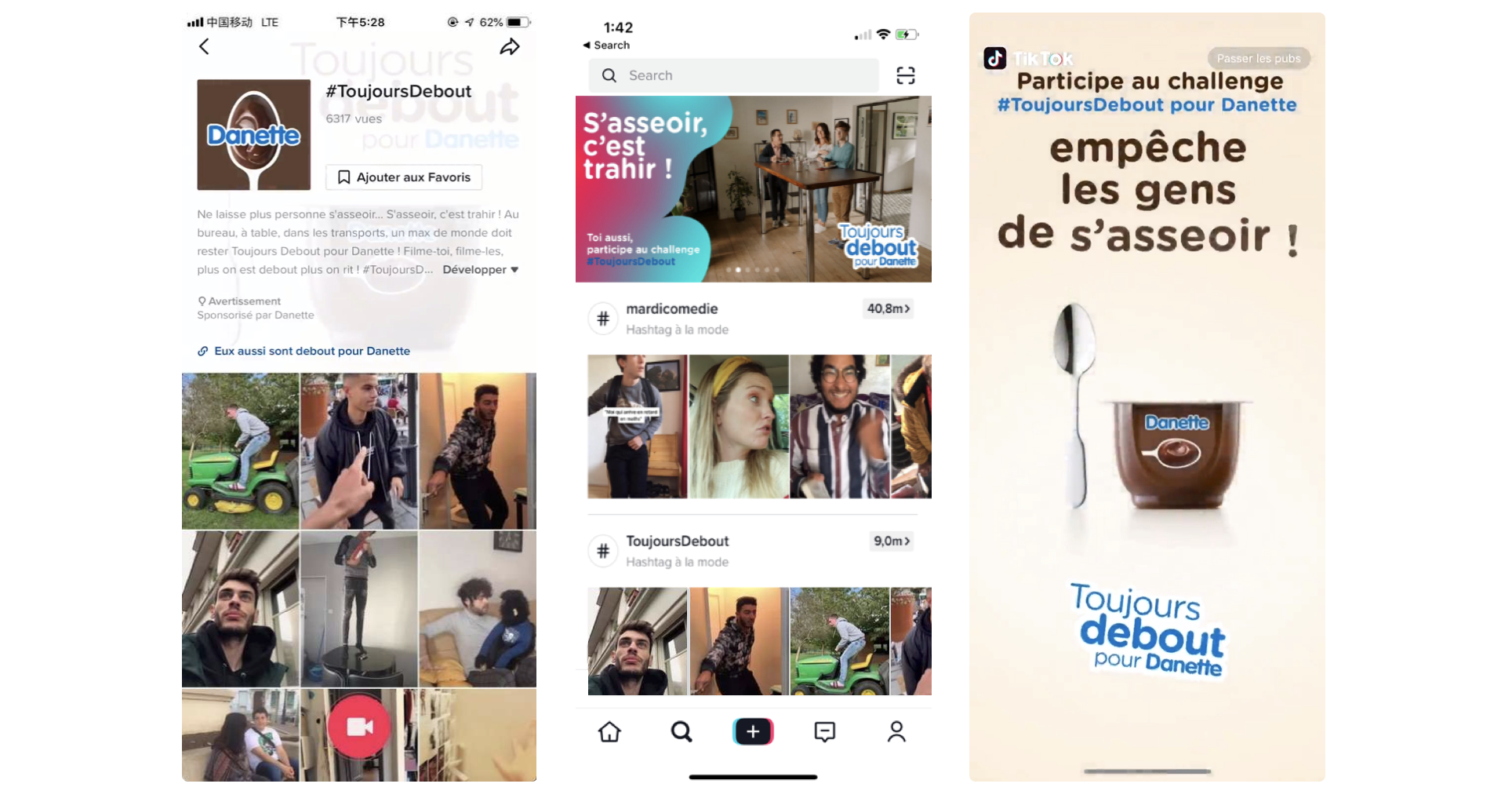 The Results
In the first week of the campaign, video views exceeded 40 million, rising to more than 100 million in the first month. Creators' videos also saw an average play completion percentage of 60.44%, significantly higher than the TikTok platform benchmark.
The Branded Hashtag generated 5.2 million total interactions and inspired more than 17,000 TikTok users to take on the challenge by posting their own 'still standing' videos to match the influencers' content. After the campaign, a TikTok Brand Lift study conducted in partnership with Nielsen cited an impressive 17.5% lift in Danette's brand association with its target audience.
For Danette, the activation was a resounding success, driving real impact with a new audience, which can often be a challenge for such an established brand. Anne Bomo, Digital and Media Manager of the Danone Group, had this to say of the campaign:
'The TikTok Team helped us translate our communication idea into a relevant challenge for one of our key tribes, and leveraged key French influencers to kickstart the activation. In terms of KPIs, both excellent media results and strong resonance with this tribe are proof of a successful partnership.'