The Objective
Corepla is Italy's 'National Consortium for the Collection, Recycling and Recovery of Plastic Packaging' – and its mission is simple: educate the country on the importance of recycling plastic waste. When it sought to take this message to Gen Z, the strategy was clear – go where Gen Z goes: TikTok.
The Solution
To achieve its objective, Corepla utilised a suite of In-Feed Ads, produced in collaboration with seven popular Italian Creators. TikTok Creators provide an already established audience – 5M+ followers in this case – whilst In-Feed Ads provide a native format that drives engagement.
In-Feed Ads run natively within the For You feed, displayed beside the content a user sees and engages with every single day. It means, whilst driving mass awareness, the ads also have an organic presence, meaning users often pay more attention when the content is brand specific or contains a key message.
The creative was visually educational – showing familiar faces making the thumbs up or thumbs down gesture towards different objects, primarily natural vs. plastic. Because this came from established Creators, Corepla could rely on their audiences to pay attention and drive the message home. They also gave each Creator the freedom to make the video in their own style – crucial for maintaining authenticity.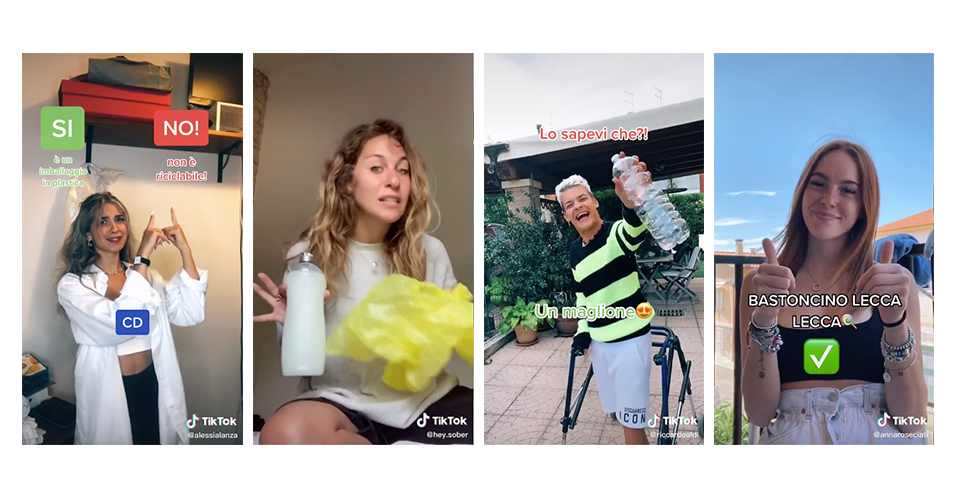 The Results
The campaign was a resounding success – more than 5 million video views led to a whopping 9.71% engagement rate, showing that not only are In-Feed Ads great for native engagement but that Corepla's message on recycling also struck a chord with the younger generation. The ads drove an impressive 479,000+ interactions as well, showing that the community listened – and acted.