TikTok is known for its creative and highly engaged community. It's the thing that makes TikTok uniquely TikTok. Whether it's a Branded Hashtag Challenge video or an In-Feed Ad, content throughout TikTok – even ads – feels organic and real. TikTok has introduced a monumental shift that's changing how brands advertise. This means ads and native content are enjoyed together. And brands are all for it.
Recognizing this change, Kantar's latest Media Reactions Report ranked TikTok #1 for ad equity. What does this mean? Ad equity measures the audience's attitude and preference towards ads across media channels and premium media brands. In other words, TikTok's branded solutions aren't perceived as just "ads" by audiences. In fact, TikTok tops the list for delivering branded content that actually resonates with online consumers.
Native and Immersive
Of the 13 major digital platforms that Kantar compared, TikTok is credited for offering the least intrusive and most innovative ad formats. This is key to TikTok's high ad equity.
For marketers, it's a match made in heaven. TikTok's unique ad formats draw in a high rate of engagement. Combined with TikTok's innovative content graph framework, a brand's creative can quickly find the right audience. So as a marketer, you're working smarter, not harder.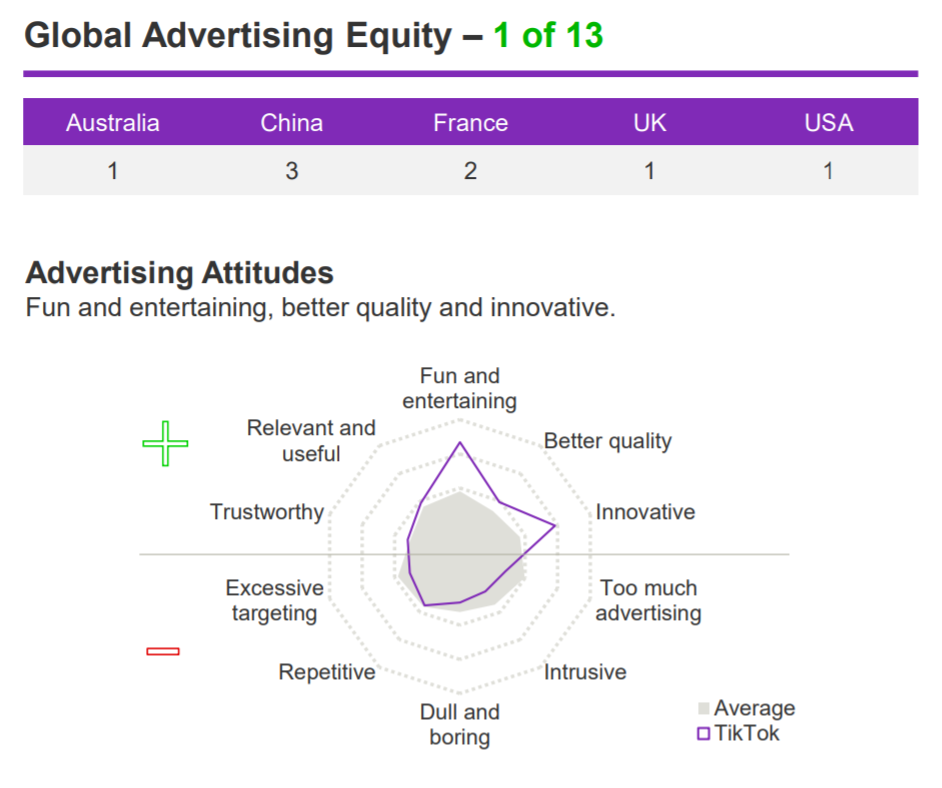 "The Kantar ad equity ranking clearly shows that TikTok users find ads on the platform really fun and entertaining, and also very innovative. They are far less likely to think the platform contains too much intrusive advertising," says Duncan Southgate, Global Brand Director, Media, Insights Division at Kantar. "This makes the platform a very appealing advertising environment."
We're just different
At TikTok, we don't just talk about being "different." We live it. Our community breathes it. TikTok is fun, entertaining and innovative. It gives brands room to be different and the chance to flex their creative muscles. But what brands have fallen in love with is that they can see the results of their creativity. On TikTok, ads can both truly go viral and instantly establish a relevancy between brands and audiences.
Big momentum
TikTok is still new. Even with all the excitement around TikTok, there's a low level of ad saturation, so brands don't have to be concerned that users are tired of seeing branded content. For marketers, low saturation and newness are both an advantage. Brands can enjoy the freedom to create their own narratives and personalities on TikTok, just like they would as a user. It gives brands the chance to reach audiences on their own terms, and the room to experiment with TikTok's tools. Brands can conjure up creative ways to deliver a message that will resonate.
Positive ad-itude
On TikTok, ads aren't just tolerated, they are enjoyed. According to Kantar, TikTok ad formats have the highest positive sentiment among consumers. This means that users are more receptive to TikTok ads than other media platforms. Even more, this sentiment is shared across multiple markets. TikTok leads with the #1 rank for ad equity and innovative ad formats in the most number of countries. It also ranks equally as high for having the most fun and entertaining advertisements among audiences.
Make TikToks, Not Ads
Ranked as the #1 media platform by Kantar for ad equity, brands shouldn't miss out. It's a unique opportunity to tap into a hot new platform while content saturation is low. And it's a chance to reach audiences who aren't only watching ads. These are audiences eager to participate in a brand story, be it an ad or native content.
TikTok is still the best place for brands to explore fun and creative ways they can reach highly engaged audiences. After all, on TikTok, brands are making TikToks, not ads.
To learn more about why TikTok leads in ad equity, visit Kantar's website and download the free version of the Kantar Media Reactions 2020 report today.